Alright folks, today I will be discussing freezer cooking.
Imagine this. You come home after a long day at work and your house smells fantastic. Your crock pot contains a clean, healthy dinner that is ready to eat. Or, you are able to pull a meal out of the fridge and put it straight in the oven or on the grill. If this is something that sounds great to you, you need to start freezer cooking! Freezer cooking has literally saved this working Mom so much time over the last 4 months. Before freezer cooking, we ate out. A lot. At least a few times a week, and we were literally blowing money and eating garbage. With just a few hours of prep on a Saturday (and a friend or two if you have them!), you can prepare healthy, clean eating meals that your family will love!
This is part one of freezer cooking. I'll break down the process; discuss where I find my recipes and shopping for freezer cooking. On Part 2, I will share recipes and tips/tricks! Check back later for part two!
Let's get started!
Where do I find recipes?
There are many places to find recipes. When I started freezer cooking in February, I started on Pinterest. Many other Mom's have figured out recipes that work for them, and my first freezer cooking session contained recipes just from Pinterest. Nothing had been tried, so it was a trial and error process. My first session, I brought 4 recipes (doubled) and my friend brought 4 recipes (doubled). We each walked away with 8 different meals. She had done this before, and had tried and true recipes. Mine weren't. A few were a bust, but that's the way this goes sometimes.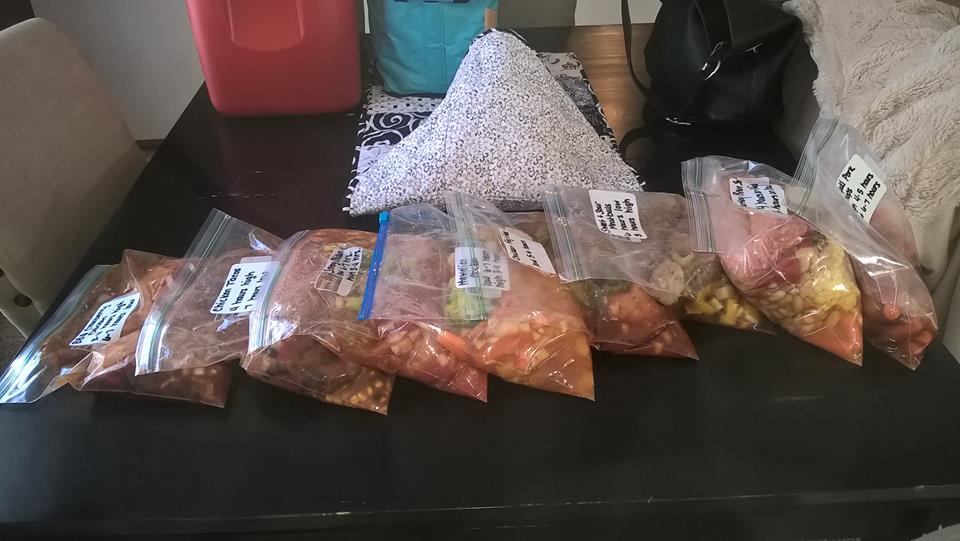 The second batch of freezer cooking I participated in, I used some of my recipes that I already had and converted them to freezer recipes. For example, I make Turkey Pesto Meatballs that are a family favorite. I looked up how to par freeze meatballs (which I will share in the next post), and made those. I also took a few of my favorite crock pot recipes, and translated them to freezer recipes. In addition, we made breakfast muffins to freeze and sides of potatoes to freeze. The second time I did this, I participated with 3 friends, we each brought 4 meals (quadrupled) and I walked away with 16 meals.
Essentially, I think you can find recipes all over the internet. However, I do like to use my own recipes, tweak them a bit for the freezer and create meals that way. By doing this, I am ensuring that my family will like the meals and I'm not wasting money.
Shopping for Freezer Cooking
I feel that this is basic, make a list and go shopping. I wanted to cover this because I have a found a few tricks to save some money. When you are shopping for these meals, depending on how many you make (and your area), you can expect to spend at least $100. When I did the first round and doubled 4 meals, I spent around $60. Most of my meals contained boneless skinless chicken breasts, and luckily Sprouts had them on sale for $1.98/pound. That helped save money. When I shopped the second time and I quadrupled my meals, I spent $120. That time, I did my shopping at King Soopers (Kroger) and I did have a lot of the staples on hand, like pesto sauce, soy sauce, ect so that helped save money. I have learned that these meals require a lot of meat up front (unless you do vegetarian ones). Looking at the sale ads to see what meat is on sale is helpful. Also, I tried to plan around what I already had in my pantry that could be used up. When your shopping, don't forget freezer bags, foil throwaway pans, foil and plastic wrap.
Happy freezer cooking planning! Check back for Part Two!