Good evening!
As a quilter, I have often dreamed of having a large quilting wall to arrange and display blocks I am working on. Prior to Christmas break, I shared my sewing space with a Foosball table that my children never used. Our basement is one big space, with one section consisting of a family area (TV, computer, couches) and the other side my sewing area with a Foosball table. My children are getting older and they didn't spend any time down there. Over Christmas vacation, I decided to take apart the Foosball table and move the TV into my sewing area, leaving a reading room in the old "family area". So far, its working out beautifully. In doing so, I freed up some wall space and the first thing that came to mind was a design wall.
Materials:
*Foam Board (size needed will depend on space)
*Hot glue gun and sticks
*Cotton batting
Method:
I measured the wall space for the design wall and purchased two tri fold foam boards from Joann Fabric.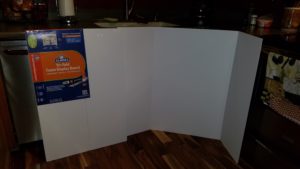 This picture shows one in the package still, and one open. Next, lay out the batting and place the foam board on top. I chose my kitchen counter for plenty of space.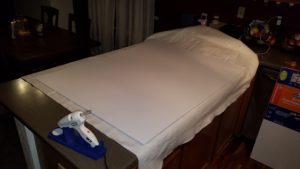 Begin to glue the batting to the board, being sure to pull the batting tight.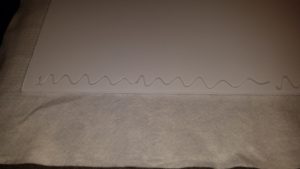 I tackled the corners like I would a gift I was wrapping.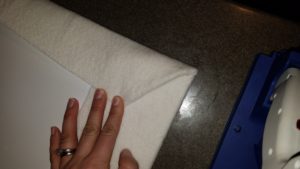 Continue this method all the way around the board(s). As you can see, I didn't care too much how the back looked since it was going up against the wall.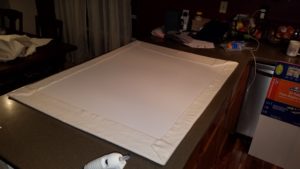 Screw the boards on the wall and enjoy!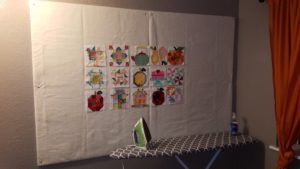 And here's a peek into my sewing space! My machine is put away from attending Farm Girl class yesterday.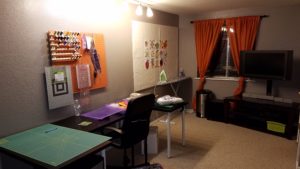 As always, happy crafting!
Jenn