A few months ago, I decided to join a quilting group at a local quilt shop with my Aunt. They had many groups to choose from, and we chose one that ran for many months and was on a Saturday morning. The group was making blocks from a pattern book called Farm Girl Vintage by Lori Holt. She is the writer on the blog Bee in my Bonnet, http://beeinmybonnetco.blogspot.com/.
Vintage farm is generally not my style; I usually enjoy working on more modern things. However, I still identify as a beginner quilter, and I figured I would learn a lot and make new friends. The first weekend of October I went to the first class. The group had already been running for many months, and the setup was cutting the pieces for four 6" blocks each class, sewing the blocks on your own time during the month, and on the following month trading blocks with others if desired. My Aunt and I called ahead and prepared the first four blocks. All I have to say is….I haven't ever worked with such small pieces. Just cutting the fabric was daunting. As I was sewing, I quickly learned that I needed to work on a scant ¼" seam. My seam ripper was put to good use! Below are pictures of the 4 blocks.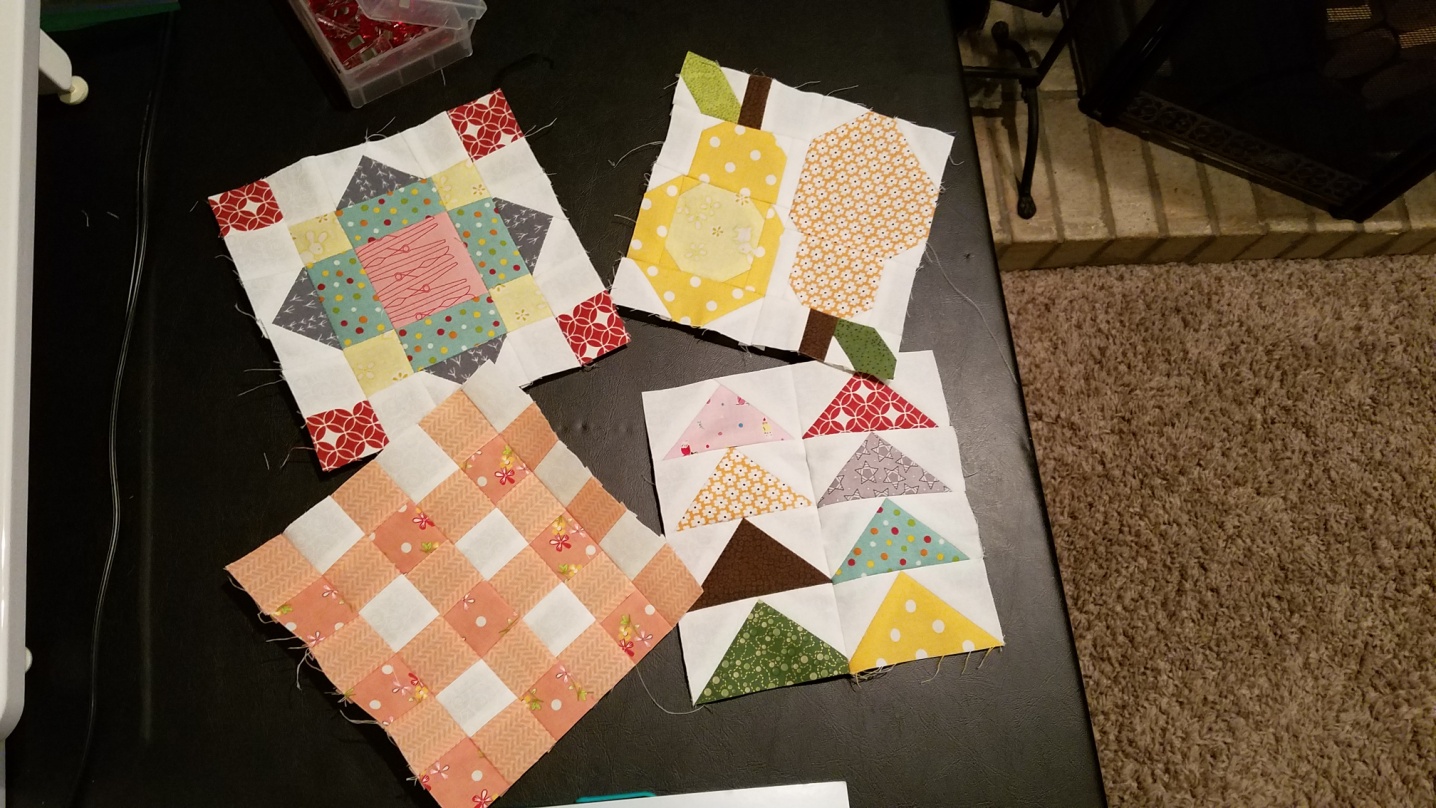 The flying geese, bottom right, and the gingham, bottom left, were the hardest for me. I was certain I wouldn't be trading any blocks that Saturday, and I was also certain that I had to be the worst quilter going. I was pleasantly surprised. While there are some ladies that are phenomenal quilters, most didn't make perfect blocks, which helped put me at ease. I even traded my flying geese block and picked up one that I really like!
This Saturday, I will be bringing these four blocks. I feel very proud of these and can tell my skills are growing. The pattern book is extremely easy to understand, with color pictures, as well as spiral bound to lay flat. Each block I make is getting better and better. Notice the top left, a kitchen window. I have apples, pigs, wheat and grass when you look out the window!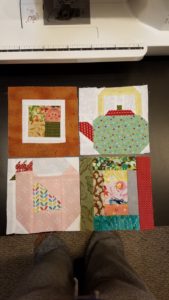 If you want to learn more skills, look into your local quilt shop! Most of them offer many classes and groups, often times for a low cost. Happy quilting!