Pokemon Go Party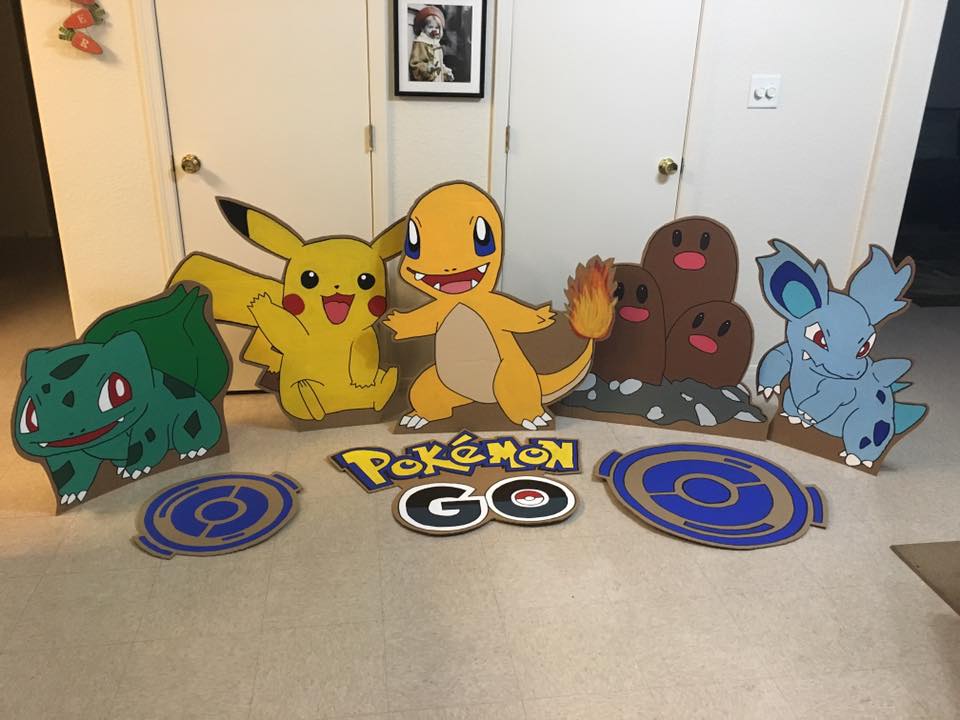 My 7 year old has had quite an obsession with Pokemon lately. It was fun to start planning his Pokemon extravaganza! The following is what I settled on for what I thought was a pretty successful party.
Activities:
-Pokeball Catapult Build
-Pokeball Easter Egg Hunt
-Pokemon Go Neighborhood Adventure
The Invitation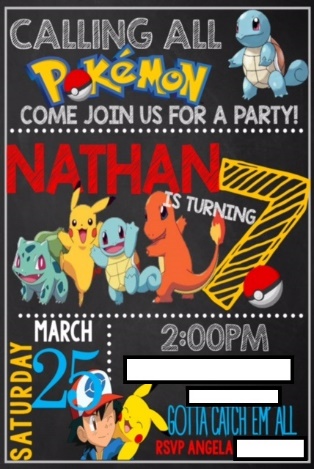 I purchased a customized invitation from an Etsy vendor. Almost any party theme is available on Etsy and a lot of vendors will customize the invitation with your child's name, party time, date and RSVP information.
Pokeball Catapult
The Pokemon catapult is a way to keep children busy as all the party guests arrive. Each catapult requires seven large craft sticks, 4 rubberbands, a bottle cap and an adhesive square. I finalized catapult counts the night before the party. That way I could have each child's catapult pieces in individual bags and easily hand them out as children showed up. If I had it to do over again I would probably make step by step instructions on a small card and include it in each bag. The kids needed assistance with the rubber band portions of the catapult. The more parents available to help the better. I stacked 5 large craft sticks and rubber banded the ends. Craft sticks number 6 and 7 go on top and bottom of this large stack in a "T" intersection. One rubber band goes at the bottom of those two craft sticks and then the last rubber band crisscrosses the "T" junction to secure the craft sticks together. The bottle cap gets secured to the end of the top craft stick with a glue square or scrapbooking square. You could use a liquid glue but the kids at our party definitely wanted to test it out right away. I found the glue squares immediately attached the cap and let them use their catapults right away. The Pokeballs collected in the hunt shoot perfectly from these catapults. The perfect treat to send home with your party goers.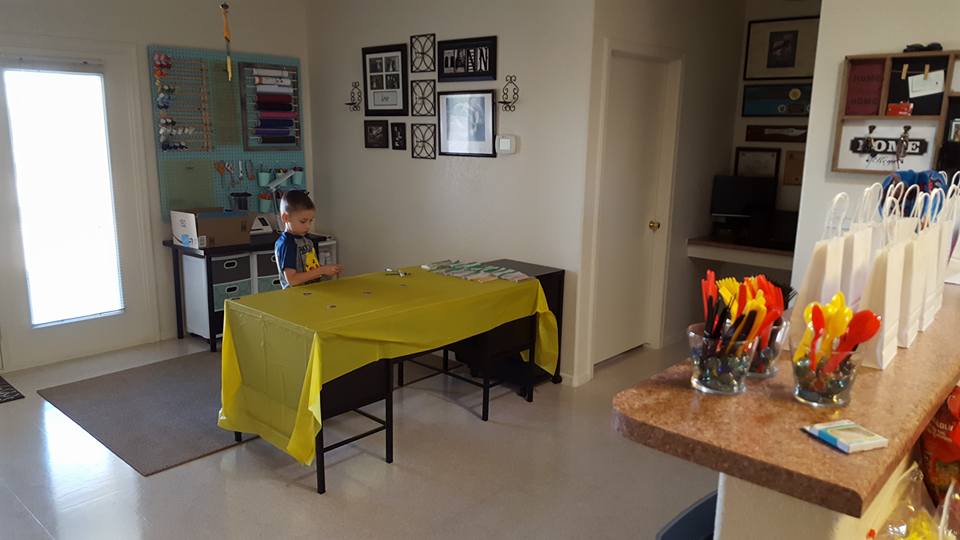 Catapult Station
Pokeball "Easter Egg" Hunt
I made Pokeballs out of beer pong balls. I found that ping pong balls were not a cost effective option for me. I could easily purchase 144 beer pong balls off Amazon for $8. They are just slightly smaller and a little thinner than traditional ping pong balls. I will cover making the Pokeballs in a future post.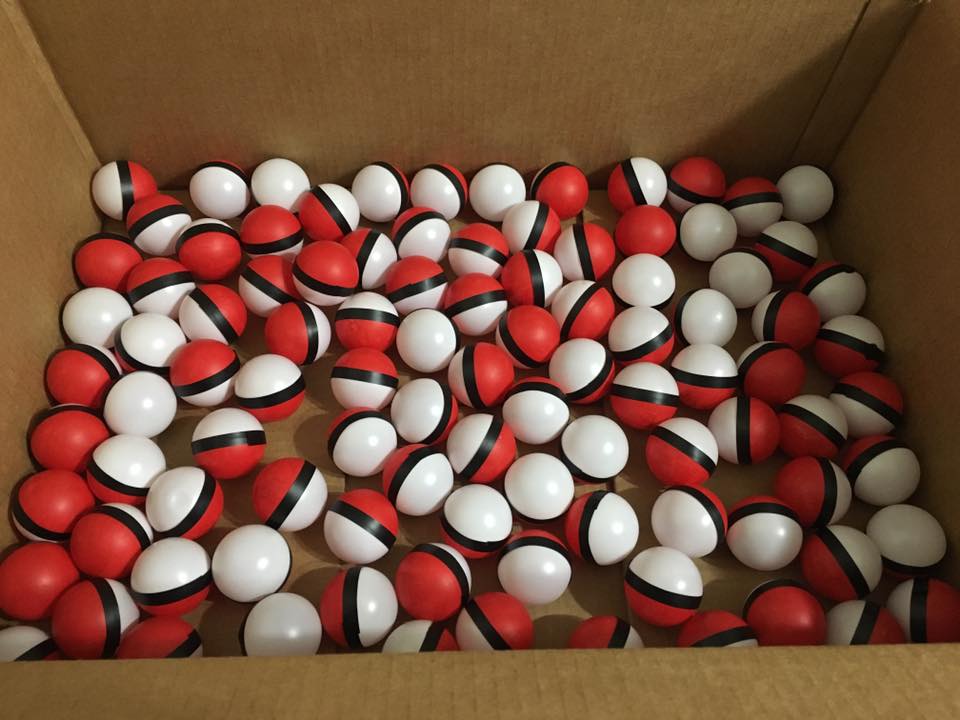 I decorated white gift bags to look like Pokeballs to serve as "Easter" baskets to collect their Pokeballs in. I purchased a 3 pack of white bags from Dollar Tree for $1 a pack. I used construction paper to complete the Pokeball bags.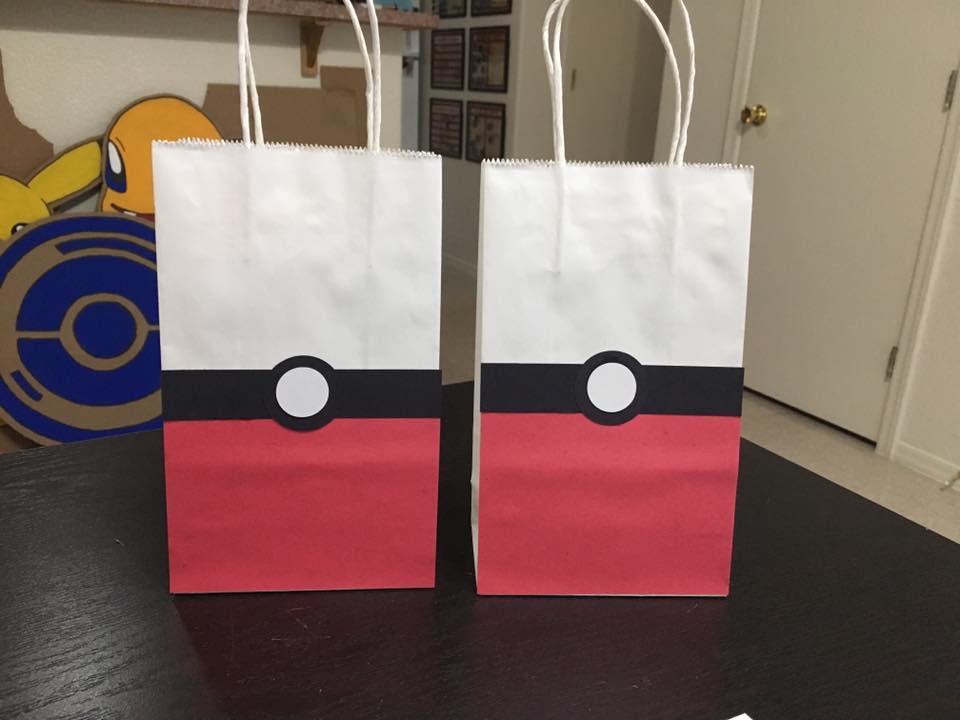 About an hour before the party began we scattered the Pokeballs around our yard. If you want to make the hunt harder you can but the kids seem to have fun just running and seeing who could collect the most balls.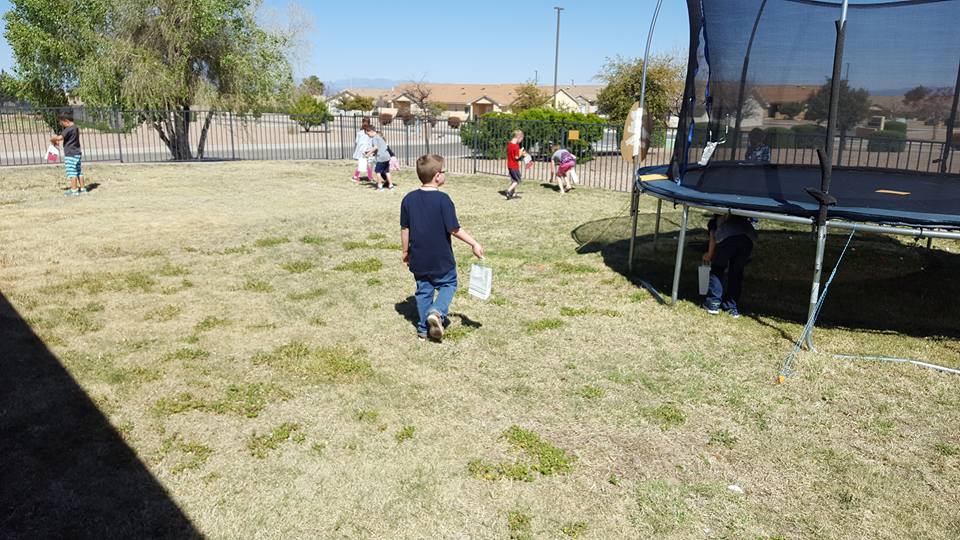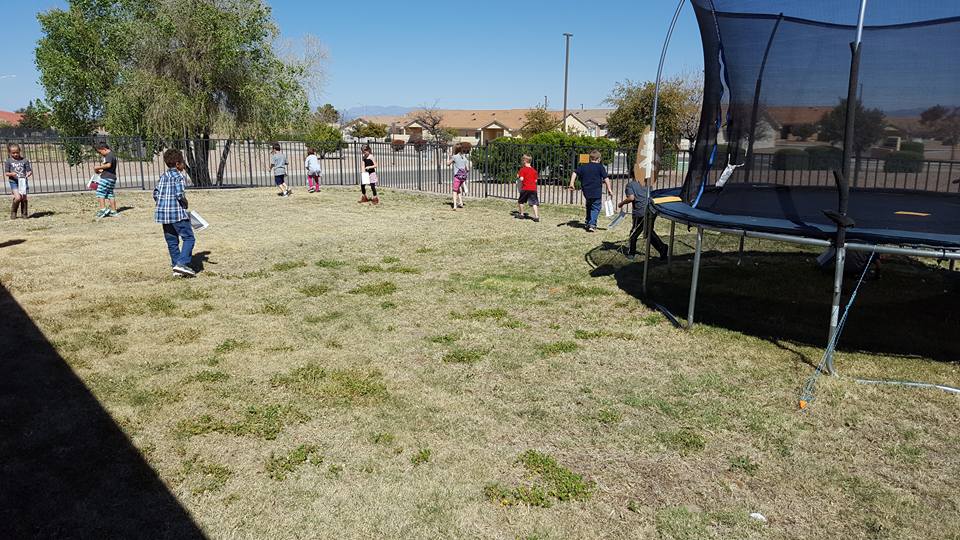 Pokemon Go Adventure
As each child arrived I handed out lanyards with a different team name on them. Pokemon Go has three teams you can join: Valor (Red), Instinct (Yellow) and Mystic (Blue). You can had out colored tags or pull an image of each gym off the internet and make tags. I handed out colors in a pattern so that the teams would be evenly numbered when it came to our adventure,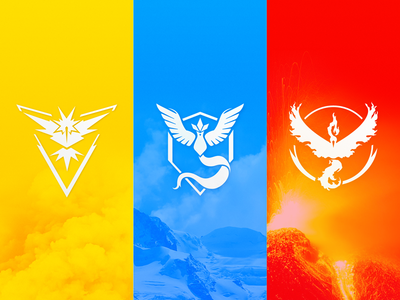 After everyone had gathered their Pokeballs they were ready to begin Pokemon hunting and Pokemon Go Adventure. I purchased a complete Pokemon adventure from a website called PartyGamesPlus.com. The total was $11.99 for the complete scavenger hunt and you just print the adventure pieces. I selected their Printable Pokemon Treasure Hunt package. I printed 3 of each clue and put them into the corresponding envelope. The Treasure Hunt has a Clue Master set up for 40 locations around your neighborhood or home. Only 10 of these hold real clues but the other 30 are there as diversions from the real clues if the team does not figure out the previous clue correctly.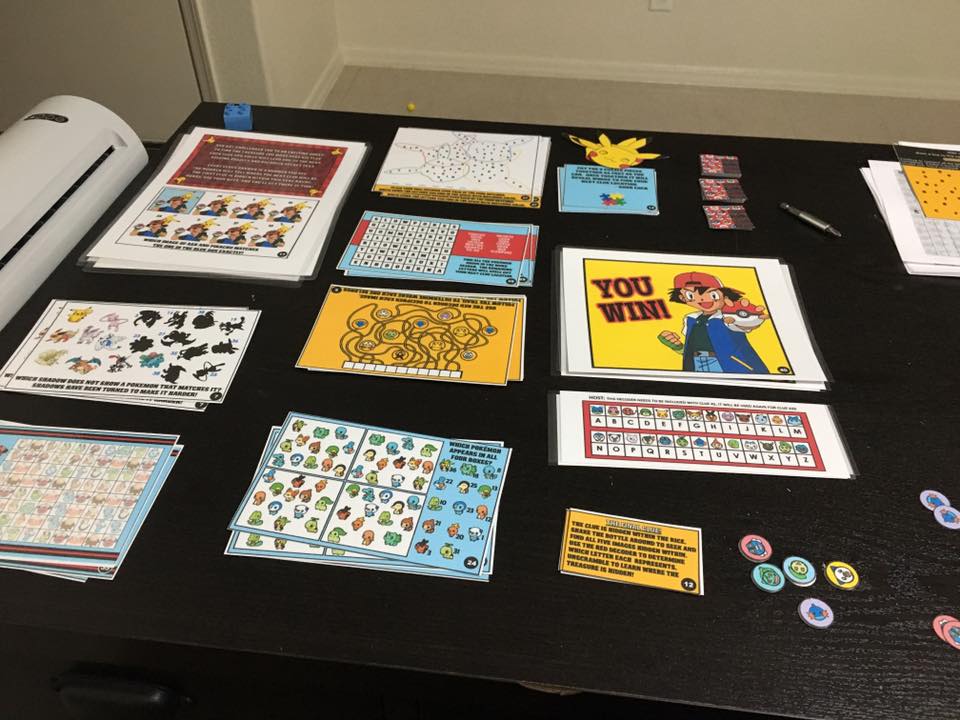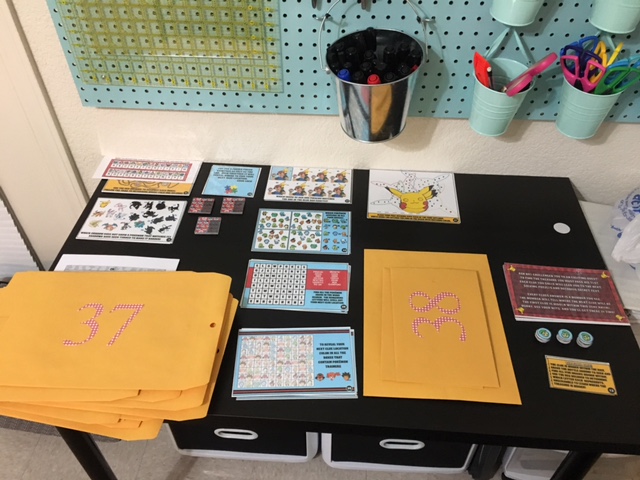 I numbered each envelope 1-40 and mixed sizes based off clue size and placement of envelope on our clue master. My husband and I walked through our neighborhood to find the best clue locations and the 30 decoy locations. We mapped out walking to each location and had 12 minutes total walking time to all the sites. This provided enough time to fill the birthday party but not so much that the children got sick of the adventure. We separated the kids into their 3 teams and had a parent accompany each team. Along the way I placed Pokemon cardboard cut outs for the kids to toss their Pokeballs at to catch the Pokemon. I made a Pokedex for each child to check off their captured Pokemon on the way.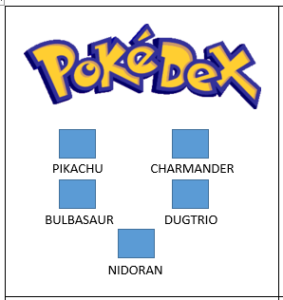 For the Pokemon cardboard cut outs I get large pieces of cardboard from Sam's Club. I trace on the desired character in pencil first and then paint each character. I then use a Sharpie Pro marker to outline the characters and give them details. I make them stand up with a card board triangle taped to the back of the character.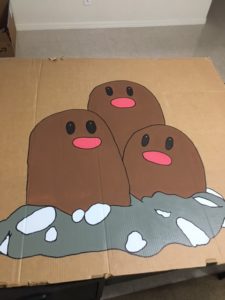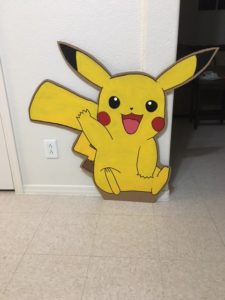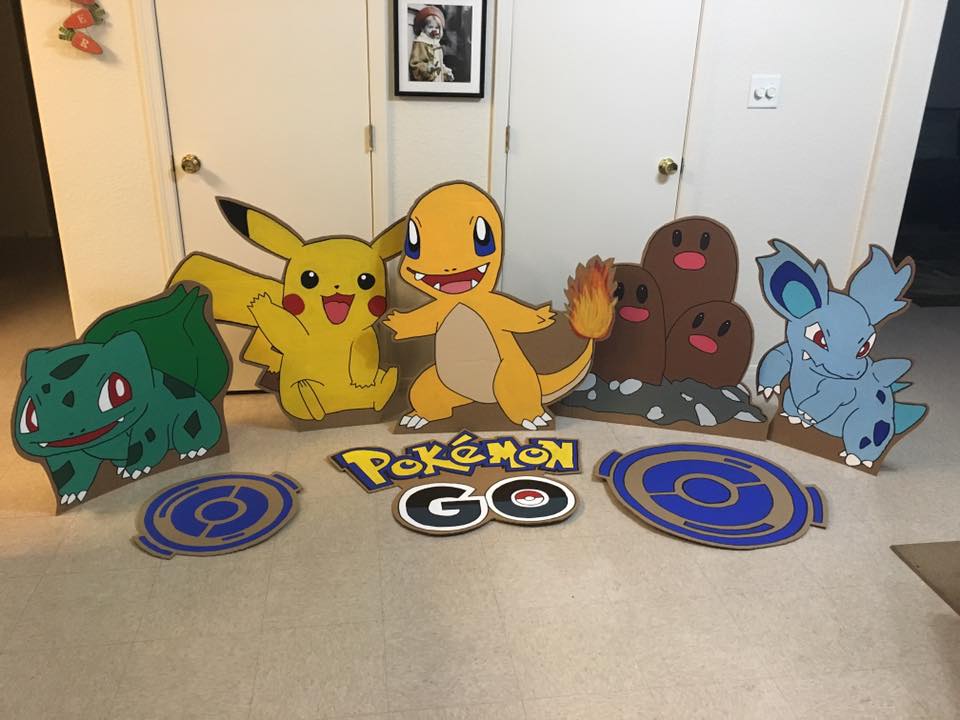 I made a total of 3 Pokestops to include in our Adventure. I put clues near each stop in our three main areas of our hunt: our front porch (our finishing point), neighborhood park and backyard.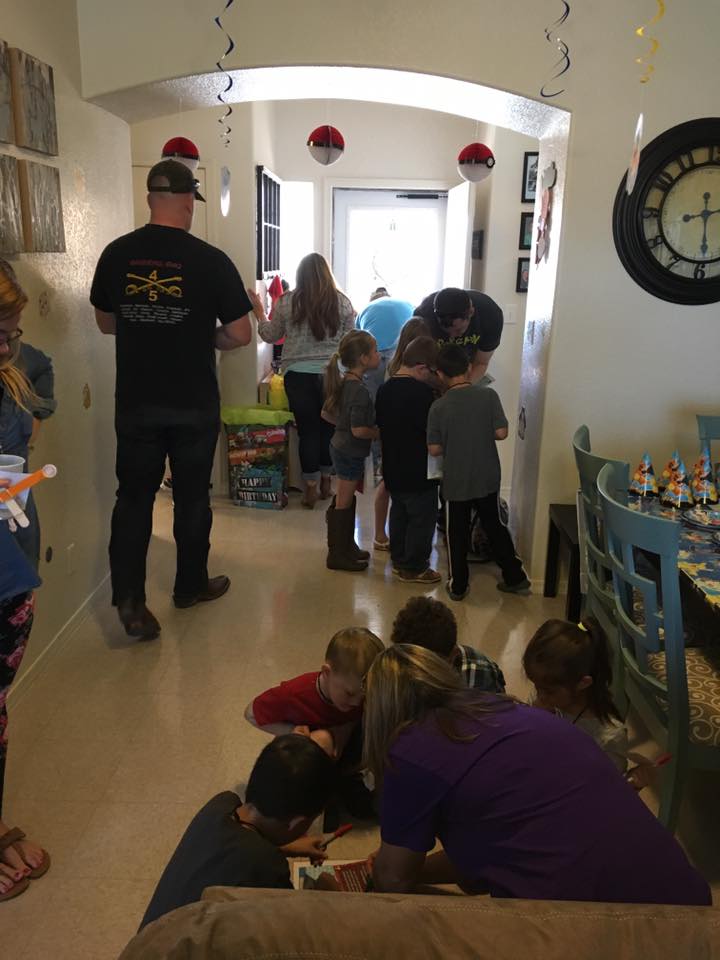 Our three teams starting the adventure!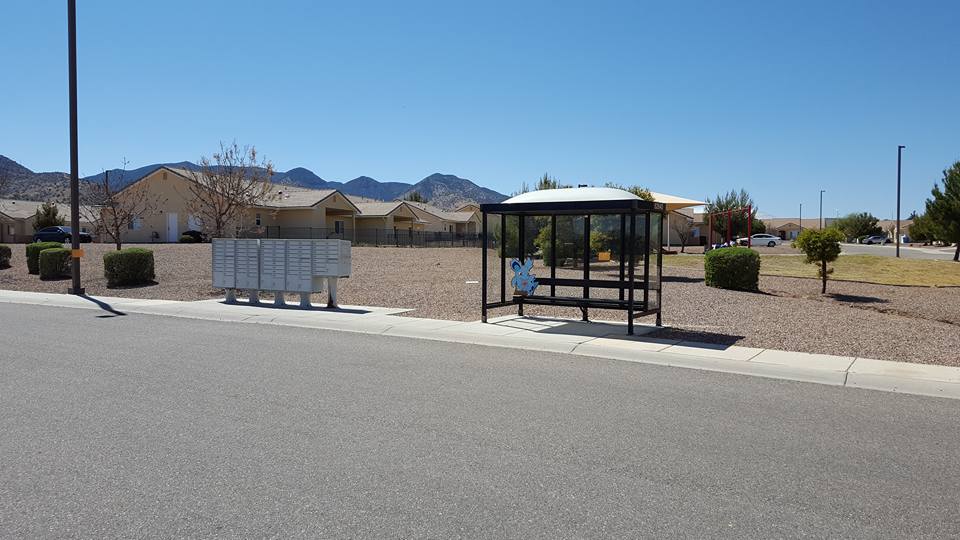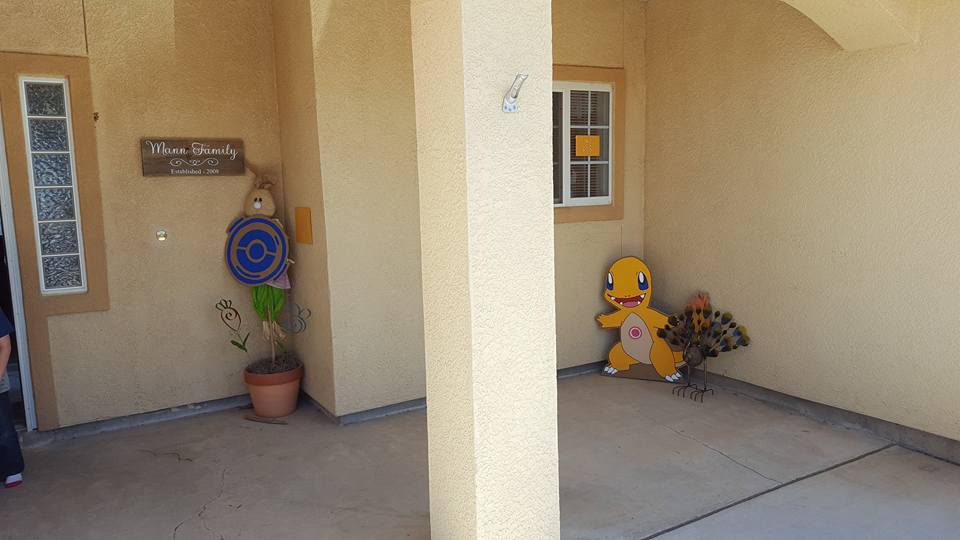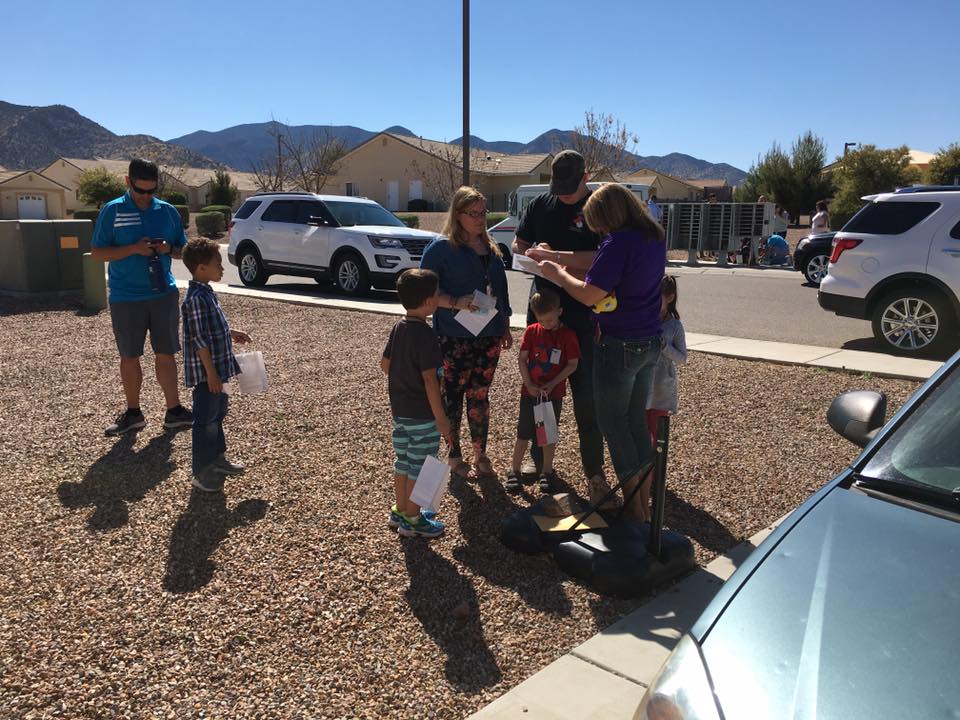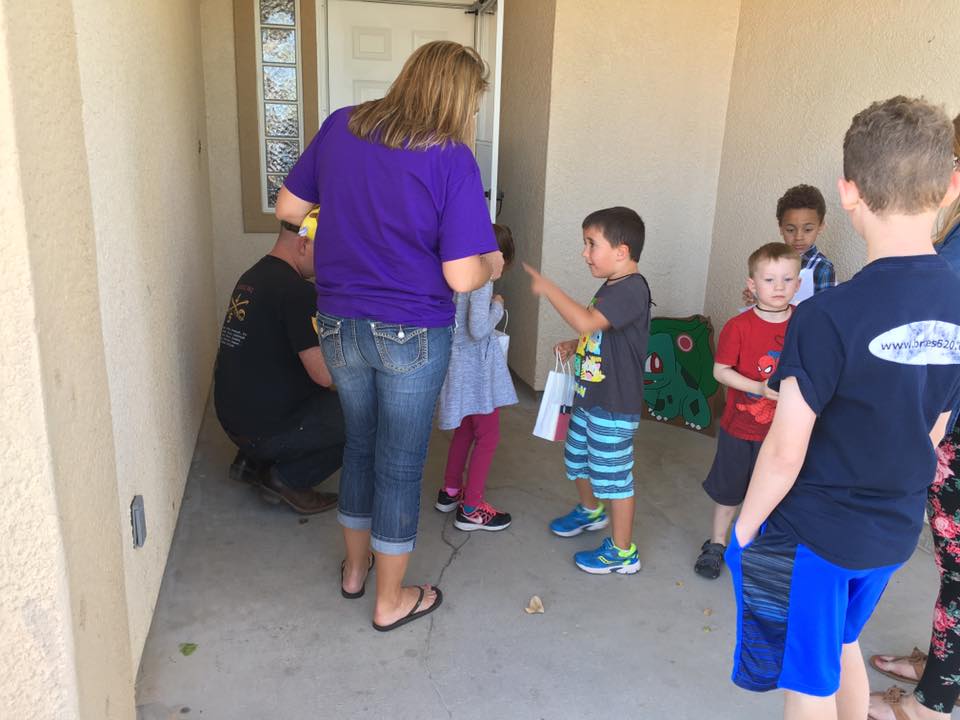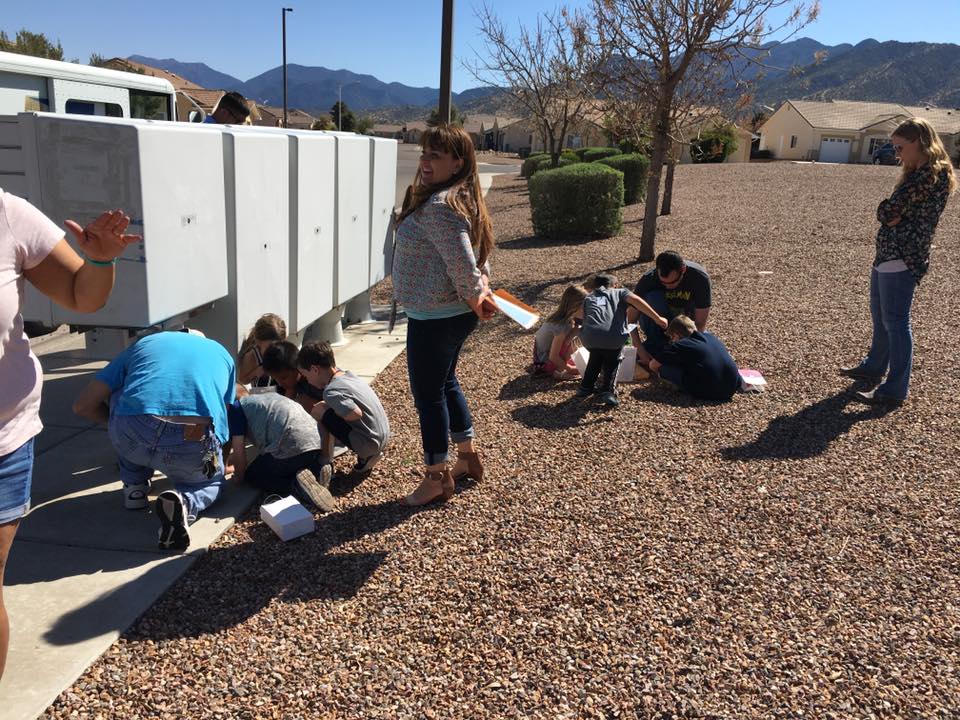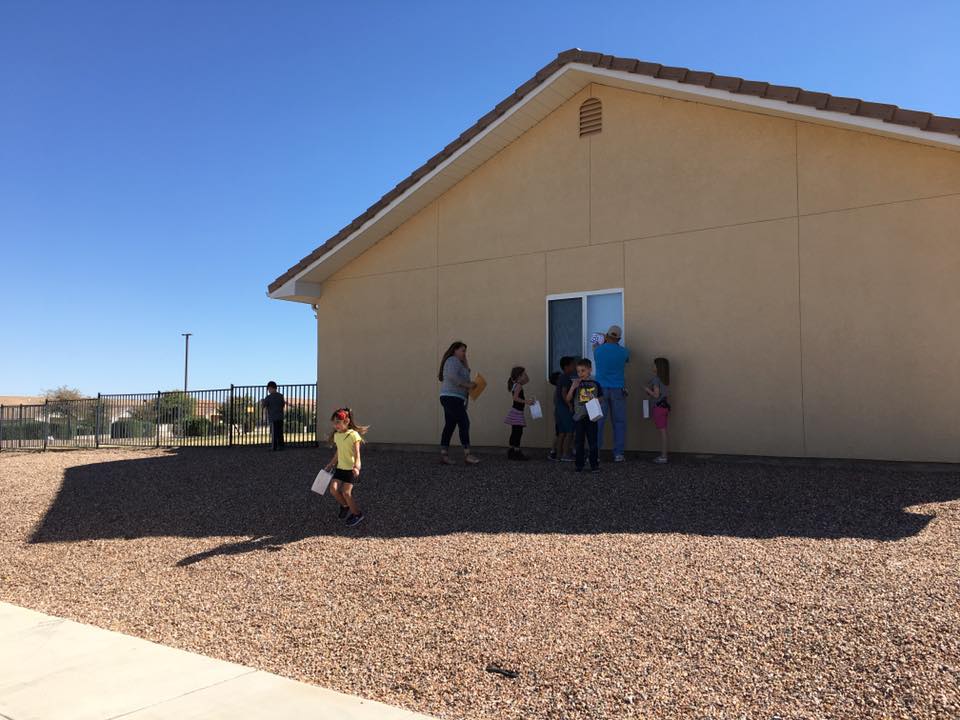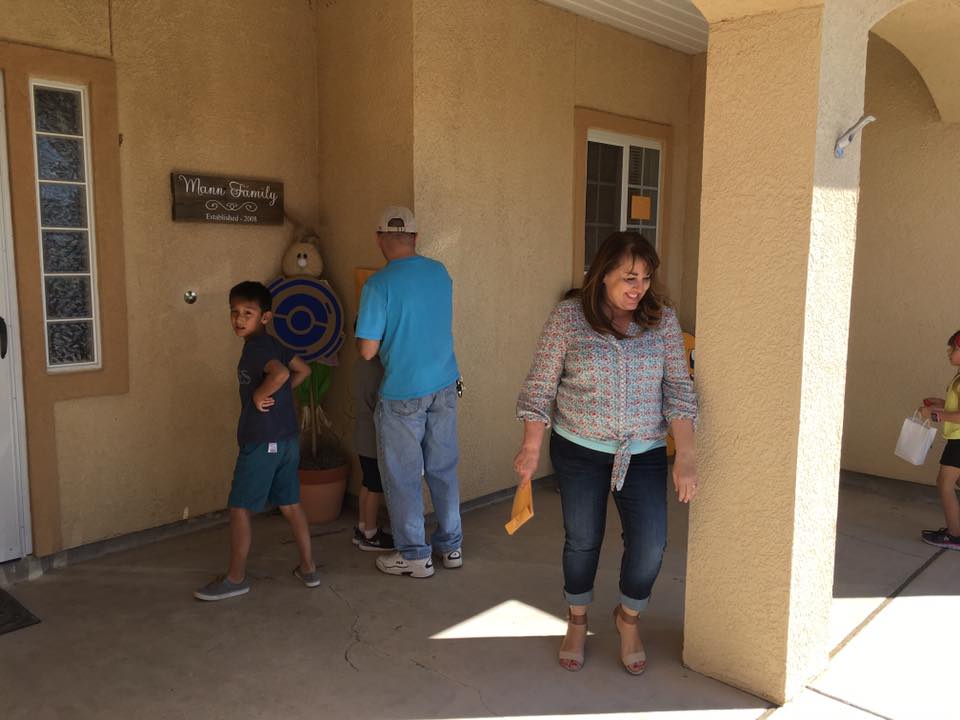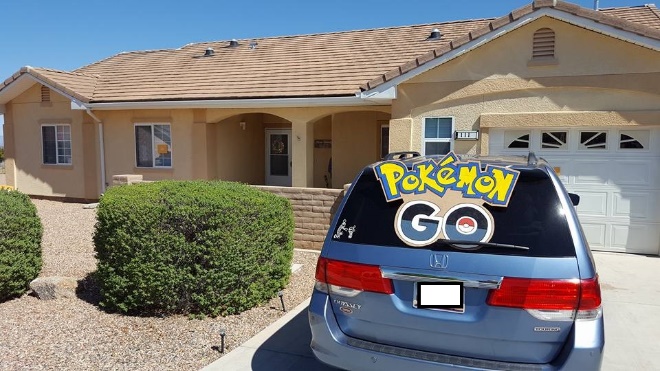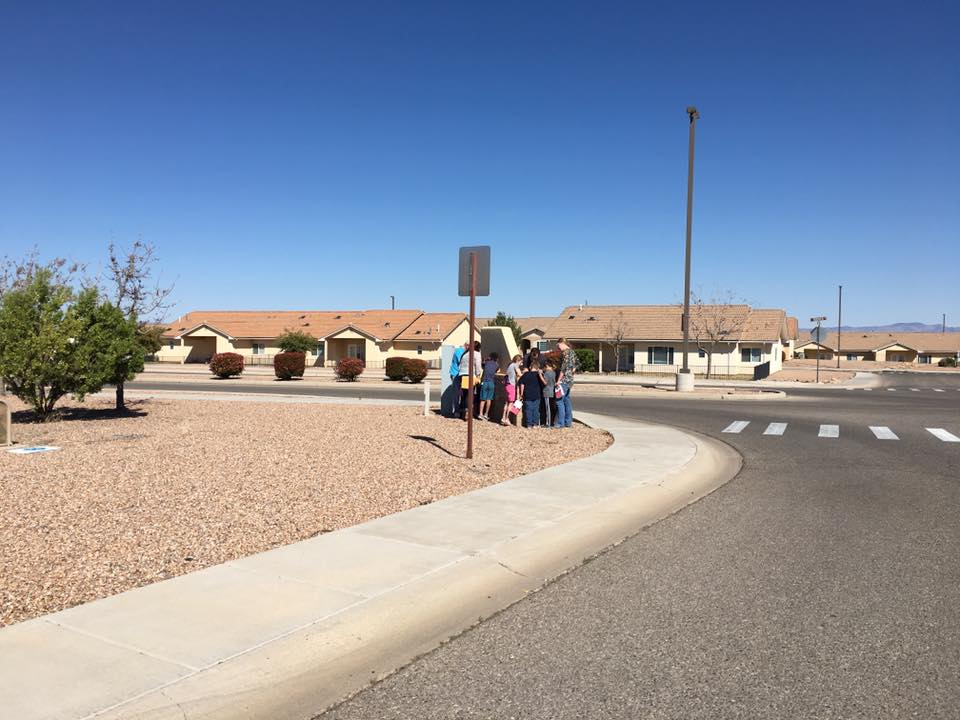 All the teams had a lot of fun during the adventure. One team in particular went through the clues faster than the others, they had more parent participation and their kids seemed to enjoy the hunt the most. As teams finished we kept the kids busy with drinks and snacks until all the teams had finished.
Food Ideas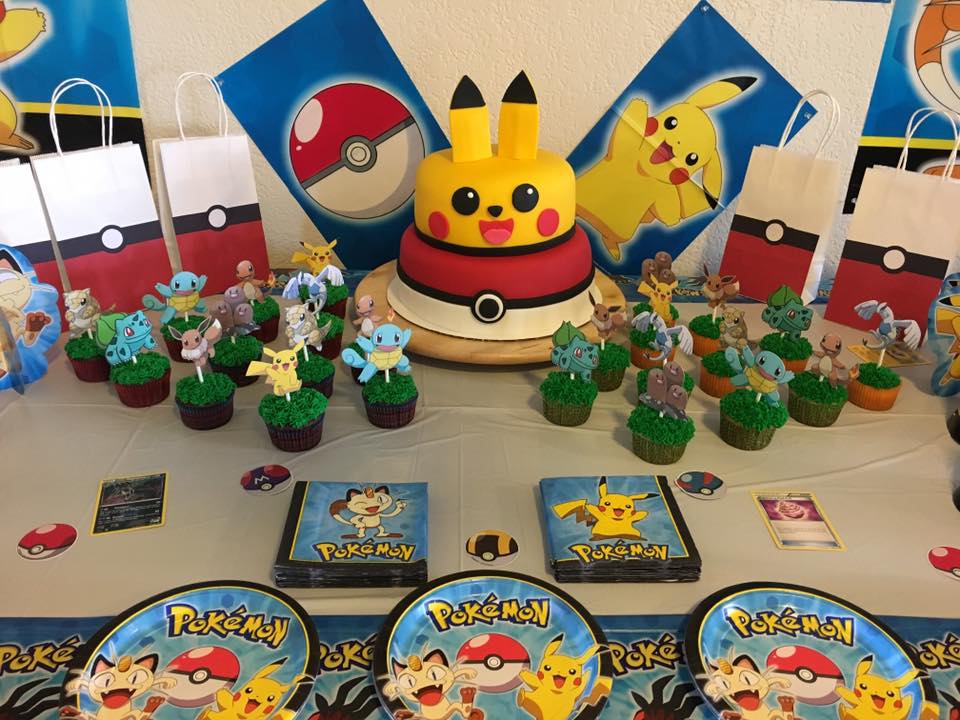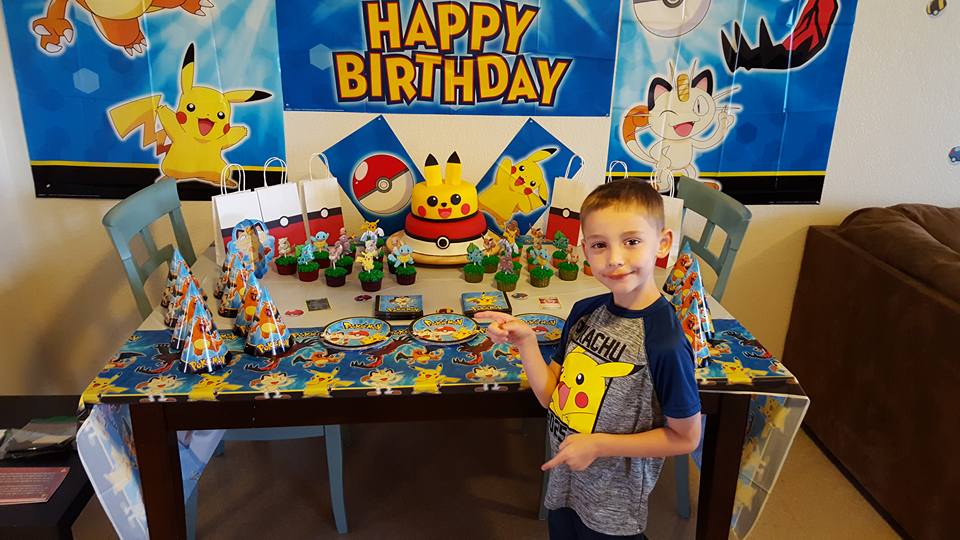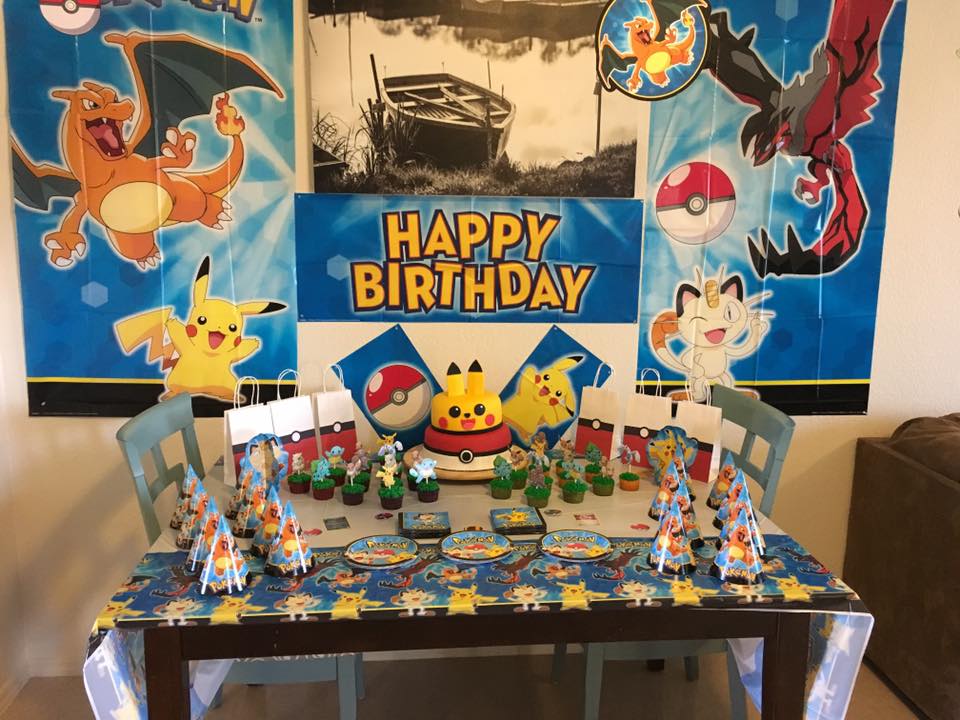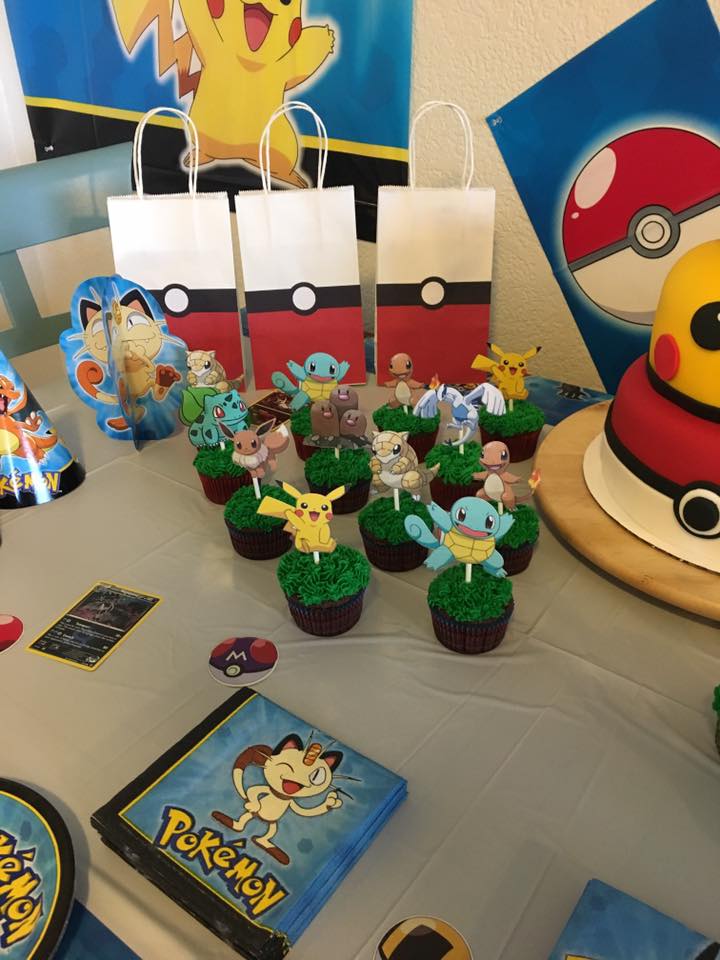 The cake was an easier one just the pokeball on the bottom and Pikachu on the top. The cupcakes were star tipped to look like grass and I cut Pokemon out of laminated paper and hot glued them to lollipop sticks.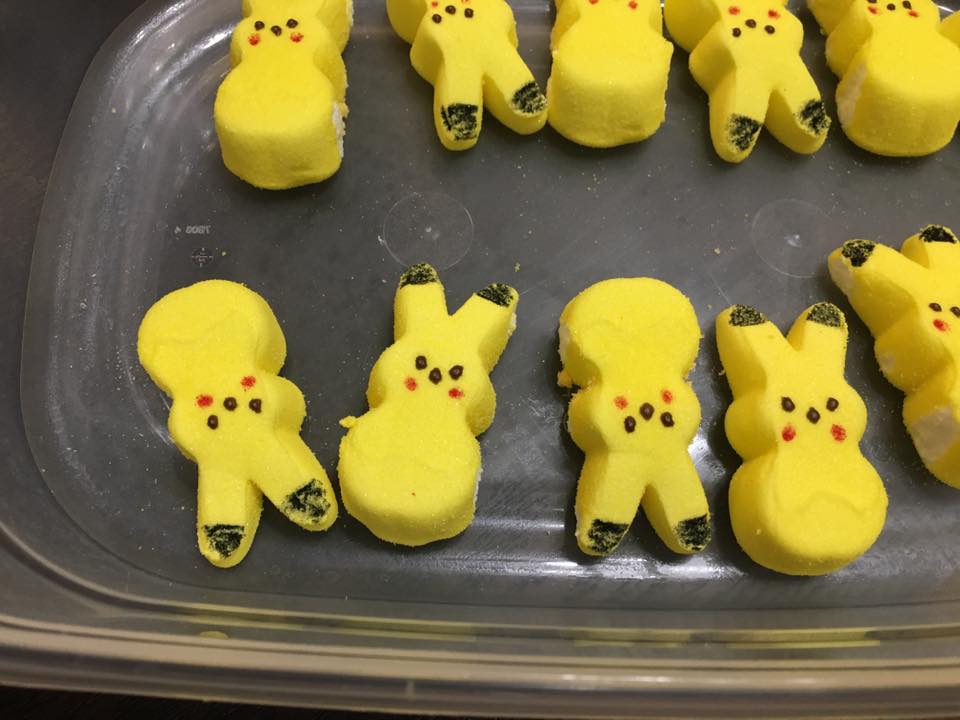 I used an edible marker to add red cheeks and black tips to the ears of Peeps to make them look like Pikachu.
Decorations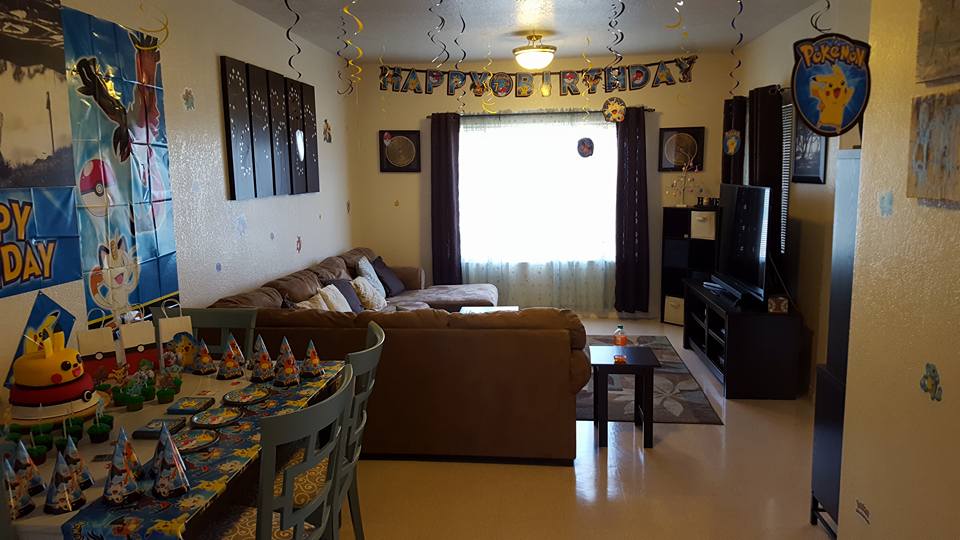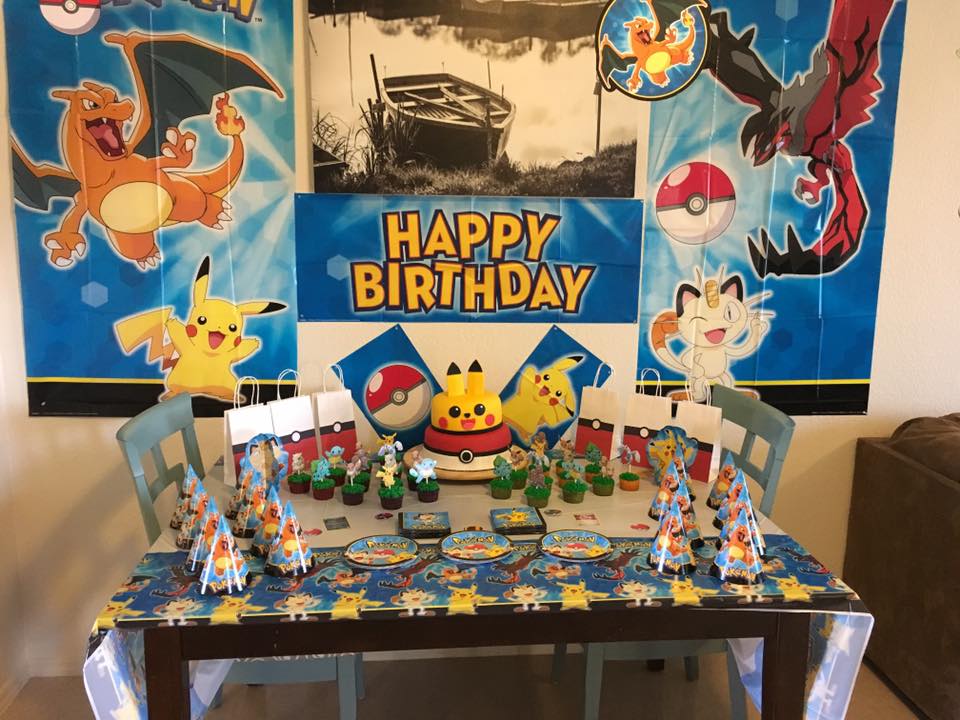 I purchased a scene setter, table cloth, ceiling swirls, birthday banner, table decorations and Pokeballs off line to set the scene perfectly.
Overall the birthday boy and party guests had a lot of fun. I hope your Pokemon party is just as fun!